This innovative online, Yoga Alliance Professionals accredited, specialist training course, will enable you to teach pregnancy yoga, yoga for birth, postnatal rehabilitation and mum & baby yoga classes, safely and effectively, creating thriving classes for mums and mums-to-be. Amy has taught pregnancy and postnatal yoga for over 12 years, and continues to teach busy weekly classes, this course is born out of years of experience of working with pre and postnatal women, and a deep desire to ensure as many women as possible have access to yoga whilst they are growing a baby.   
How the course is delivered
With young children and a busy work-life Amy spent many years struggling to find the time and money to attend live, in-person training courses. She now delivers most of her training online, so time pressed people can access high-quality, supportive, flexible yoga training courses.
This course is delivered through the creative mix of:
1:2:1 mentor sessions with Amy via zoom (3 hours)
Self-pace training videos (30 hours)

Monthly live Q & As, time and date released monthly, normally mid-month (12 hours)

Access to live and recorded

pregnancy and mum & baby yoga classes (20 hours)
Online written manual resources (5 hours)
Reading, research assignments, planning and teaching practise (18 hours)
Personal feedback on assignments and teaching practise (2 hours)
Supportive course community on Circle (think FB group not on FB)

On-going a

ccess to all online course material and up-dates (minimum 12 months access post training)
Who is the course for?
This course is for time-pressed people looking for high-quality, self-paced training, with excellent support and community, delivered by a passionate trainer who regularly teaches pre & postnatal yoga classes. It is open to all yoga teachers, and non-yoga teachers from related professions such as midwifery, medicine, doula, health workers, fitness instructors, body workers or education. The course is for teachers who want to teach yoga to mums and mums-to-be and use yoga to create community and support for women at a time in their lives' when then need it the most. Specialising in pregnancy and postnatal yoga also helps to expand your teaching schedule and fill daytime classes more easily.
Time commitment
Due to the online nature of the course there is more flexibility to fit the course around every day life and work. You can start the course anytime and it takes between 4 to 6 months to complete, dedicating around 4 hours a week, however some students take longer or shorter time depending on their other time commitments and previous teaching experience. You are encouraged to complete the course within 12 months.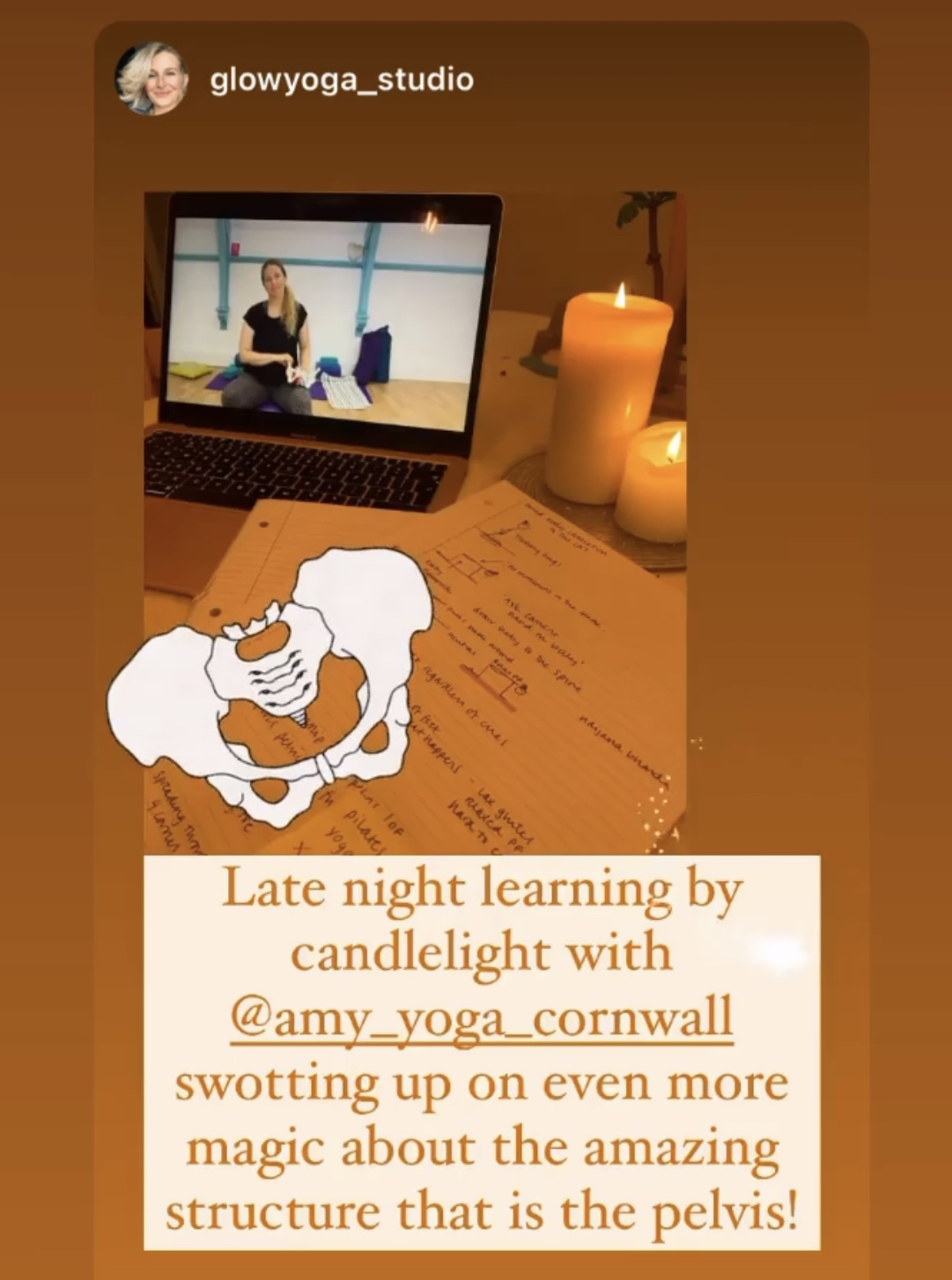 Self-pace training
On-going access to all course material and up-dates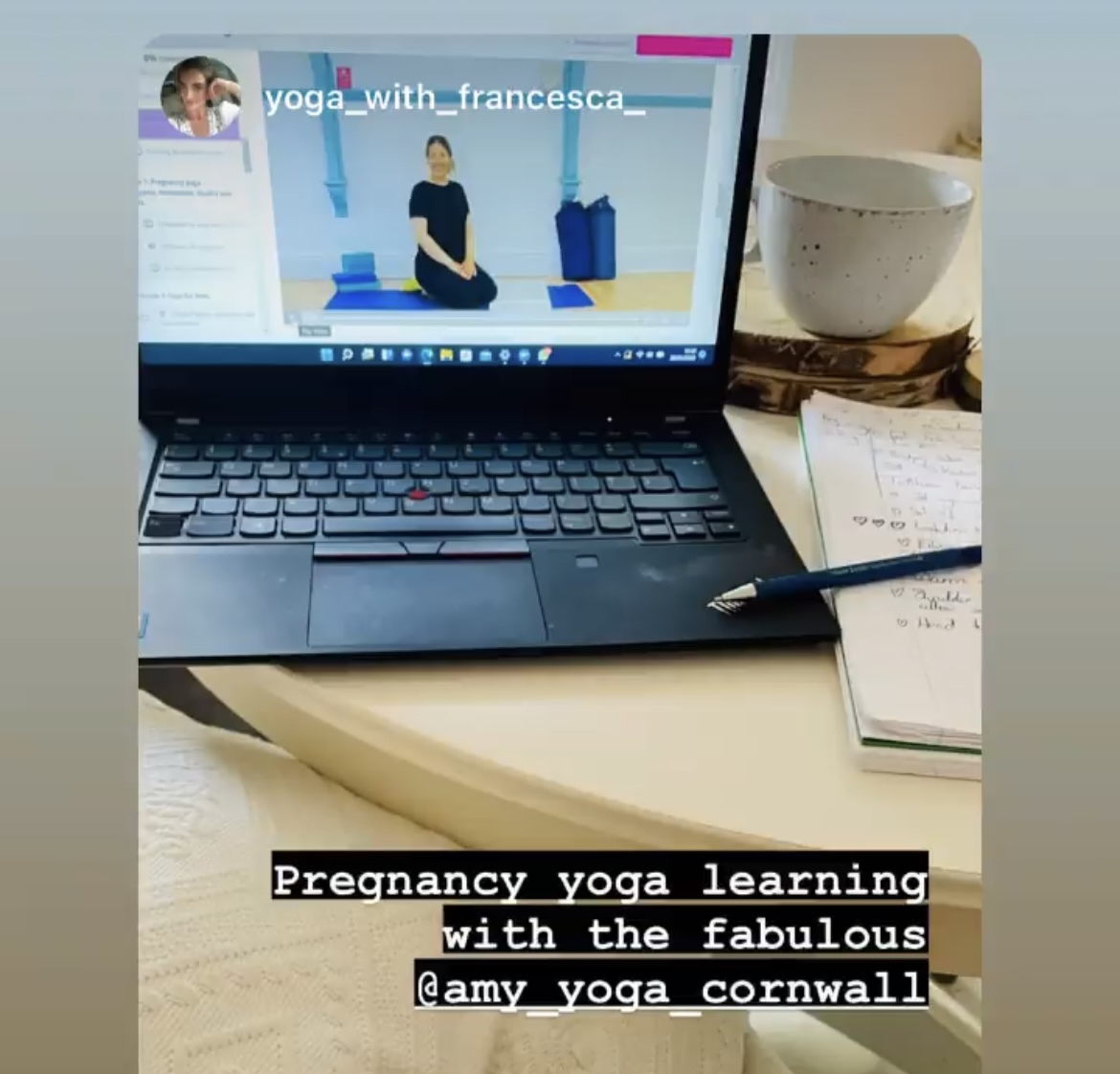 Community support
Through our online platform on circle (think fb group not on fb!)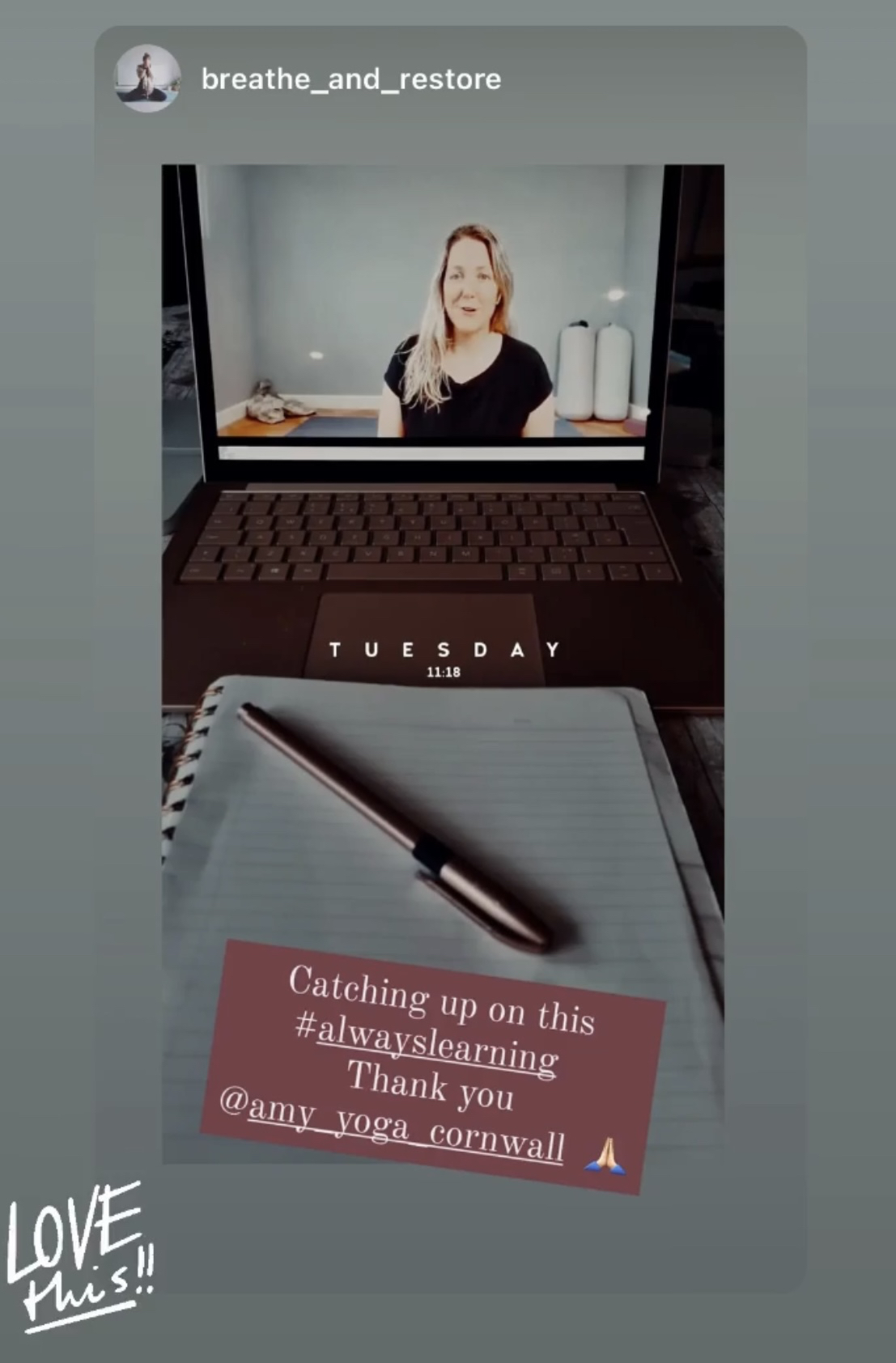 1:2:1 mentoring
Support and interaction with Amy throughout your training and beyond
Meet Amy!
An experienced Yoga Alliance Professionals senior teacher and approved trainer-pro, who has a deep commitment to spread the light that is yoga to as many people as possible. Alongside her training courses, Amy continues to teach thriving weekly pregnancy and mum & baby yoga classes, this on-going experience of teaching is infused into her training courses.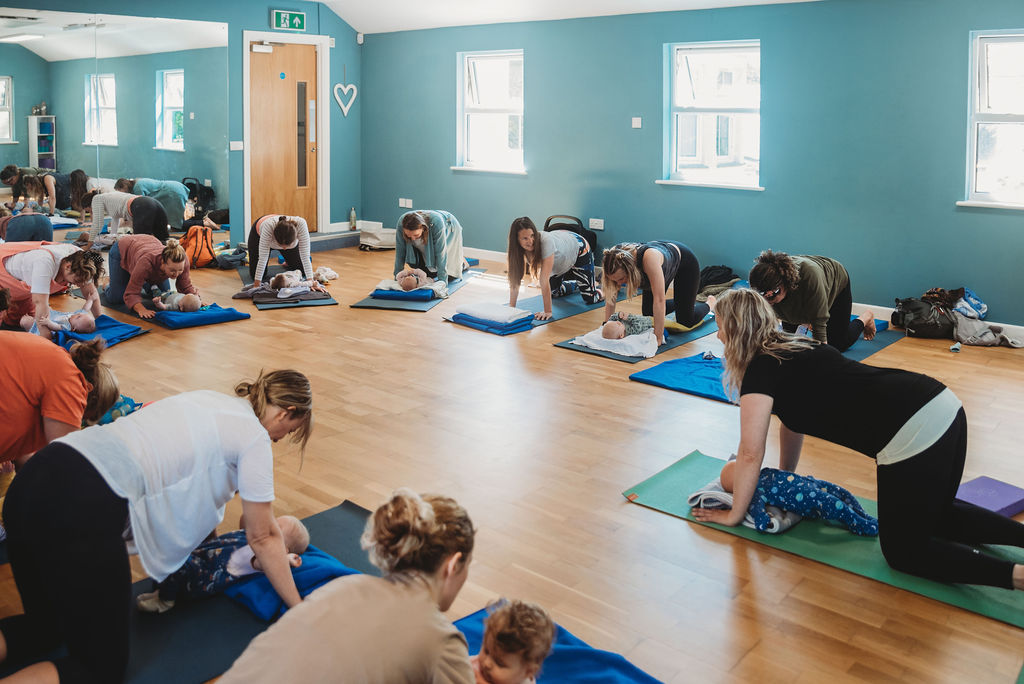 Serving bumps, mums and little ones
Thriving, impactful class - this could be you!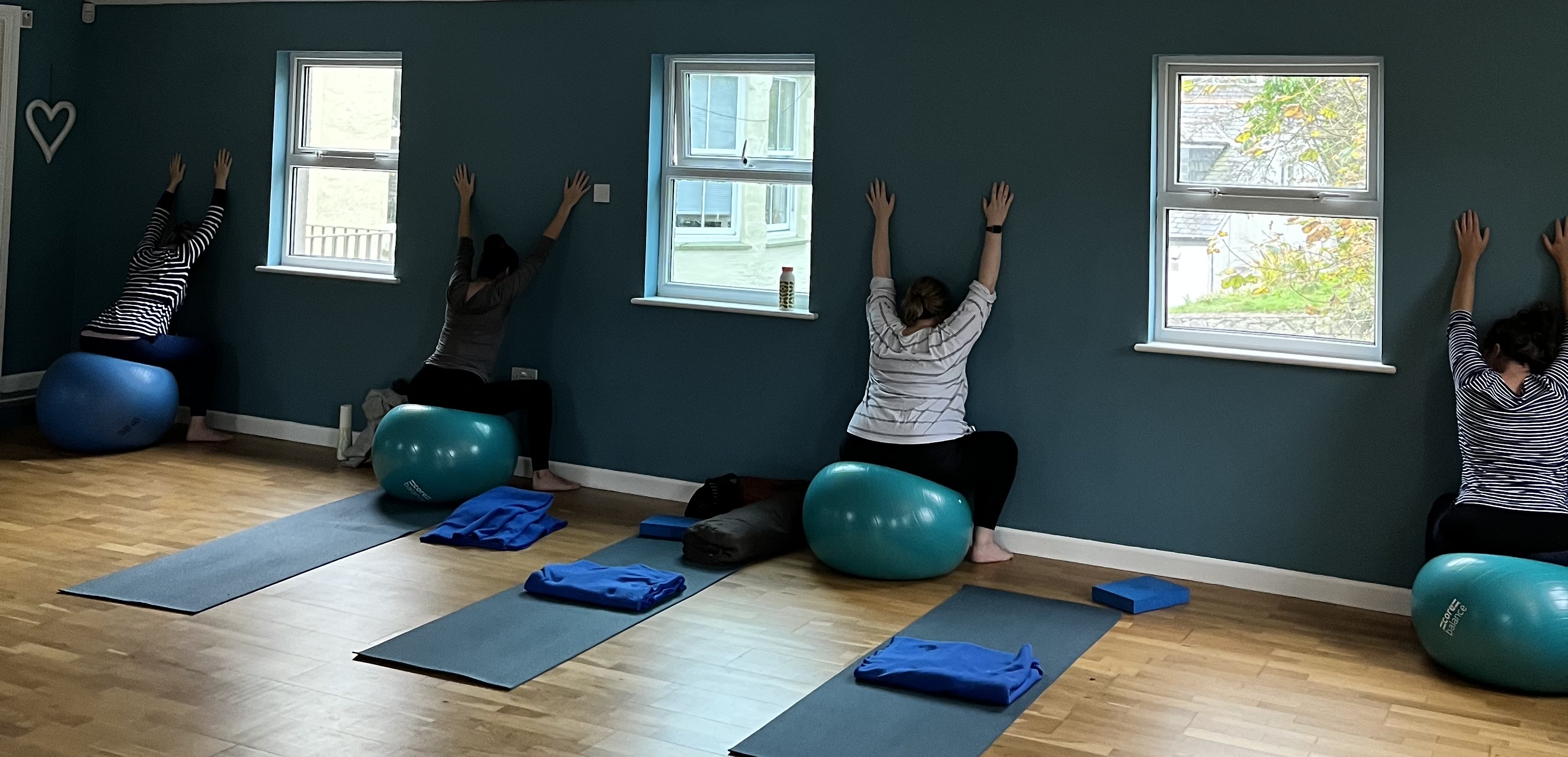 Pregnancy Yoga
Creating community, connection and support through yoga for women at a time in their lives' when they need it the most.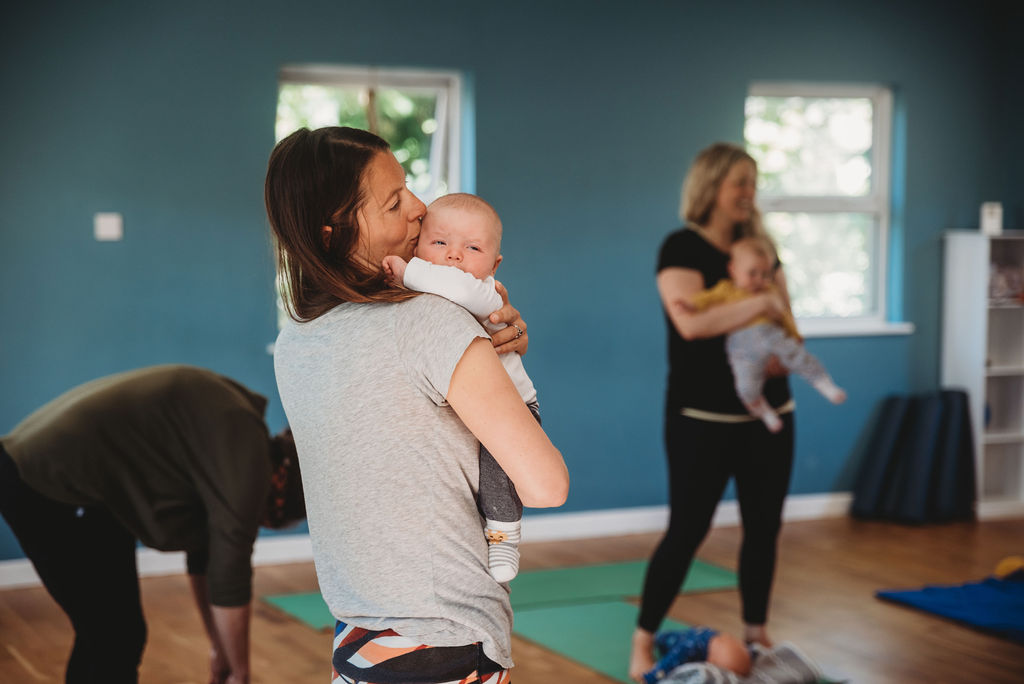 Postnatal rehab and mum & baby yoga
Offering much needed healing, postnatal health education and a nurturing environment.
The Course Content (syllabus)
Module 1: Yoga for Pregnancy and Birth
Anatomy and Physiology 
The physiological changes, hormones and emotions from conception to labour.

Labour, a 'normal' labour and other courses of labour.

The pelvis and pelvic floor in pregnancy and labour.
 Complications in pregnancy
Common conditions of pregnancy, including pelvic girdle pain.

The dark side of pregnancy, bereavement and grief.
 Yoga Asana
Yoga through the 3 trimesters.

Optimal foetal positioning and asana.

Precautions, prohibitions and modifications including safely integrating women with pelvic girdle pain into a class.

Using props in asana: gym balls, pilates balls, blocks, bolsters, cushions, chairs, and straps.

The pelvic floor; traditional kegels, postural asanas for pelvic floor and the integration of the pelvic floor in movement.

Yoga for birth preparation and discussing labour with sensitivity.
Pranayama, meditation and visualisation 
Breathing practices for pregnancy and labour.

Working with sounds, mantra and mudra.

Visualisations, affirmations and meditation for pregnancy and labour.
 Planning and teaching
Lesson planning and class sequences for pregnancy yoga.

Real class observations.
Once you complete module 1 you can start teaching pregnancy yoga classes!
Module 2: Yoga for the Postnatal Period
The postnatal Period
A Mother's health and wellbeing.

The first 6 weeks, 12 weeks, 6 months, and beyond.

Common physical issues, including diastasis recti, and wrist, back and knee pain.

The impact of pregnancy, and labour on the pelvic floor and pelvis.

The impact of breast-feeding on the body and our yoga practice.
 Yoga for Postnatal rehabilitation 
Postnatal specific asana practices 6 weeks, 12 weeks and beyond.

Rehabilitation yoga for diastasis recti

Yoga for the "core", the process of re-discovery.

The pelvic floor; traditional approaches to the pelvic floor and functional use of the pelvic floor in movement.

The use of the 7inch soft ball.

Pranayama and relaxation in the postnatal period.
 Mother and Baby Yoga Classes (6 weeks to 10 months)
Baby development 6 weeks to 10 months.

Asana for mother and baby together, including songs, movements, and sensory props.

Yoga and simple massage for babies.

Ways to hold, lift and carry baby safely.

Breath work, mantra/sound, and relaxation for mother and baby.

Class plans and sequences for mother and baby yoga.

Real class observations.
Bonus content!
Included within the course is access to the following recorded workshops
How to create profitable, heart-centre yoga classes for bumps, mums and little ones

The pelvis, pelvic floor and posture

Incorporating pregnant women into a general yoga class
5 postnatal exercises every yoga teacher should know
Access to all recorded course content and course up-dates is for the life time of the course (at least 12 months access post completion of your training)
Terms and conditions
The course costs £645, payment made in full, or 6 monthly payments of £110 , you can join the course anytime and start today!
Refund and Cancellation Policy (T&Cs)
Due to the online nature of the course once your place is paid for it is non-refundable. 
Attendance and completion of the course (T&Cs)
Students should complete 100% of all course content and assignments, upon completion a certificate will be issued. If you are a qualified yoga teacher you can teach pregnancy yoga once module 1 is completed.
Your details (T&Cs)
Please note that Amy Jones will pass on your details (name, email and phone number) to the Yoga Alliance Professional so they can contact you directly and invite you to register as a member of YAP UK. You understand you have the option of opting out of this registration process.  Your details will not be passed on to any other parties. 
By purchasing this course you are agreeing to all the T&Cs laid out above, including the cancellation policy.  
Meet pregnancy & postnatal YTT graduates!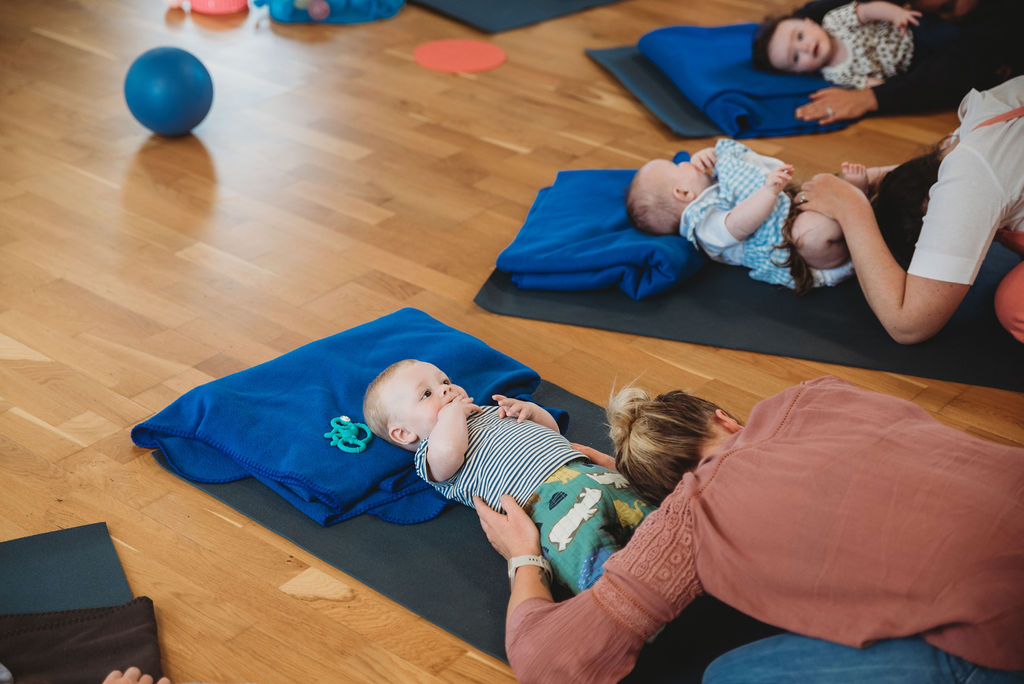 "I never thought that I would sign up to a completely online yoga training course, but after experiencing how well Amy made the transition to teaching other courses completely online during lockdown I felt confident that I would learn a lot this way. Amy definitely did not disappoint - her 1-2-1 guidance, online videos, tutorials, and class recordings alongside her resources made this a very informative, interesting and varied course - she really knows her stuff! Her knowledge has not only made me feel comfortable with listening to my own body during pregnancy, but also with passing on my passion for yoga to women during a very exciting, but potentially vulnerable, moment in their lives. I would 100% recommend this course to anyone who is looking into training as a pre and post natal yoga teacher". Roz Schofield
"Amy's teaching is incredibly thorough, offering a variety of resources from the written handbook, recorded classes for observation, and plenty of recorded training material. Amy is immensely knowledgeable and passionate and she delivers her training in such a way that is accessible and full of joy and humour. Just loved it." Jennifer Best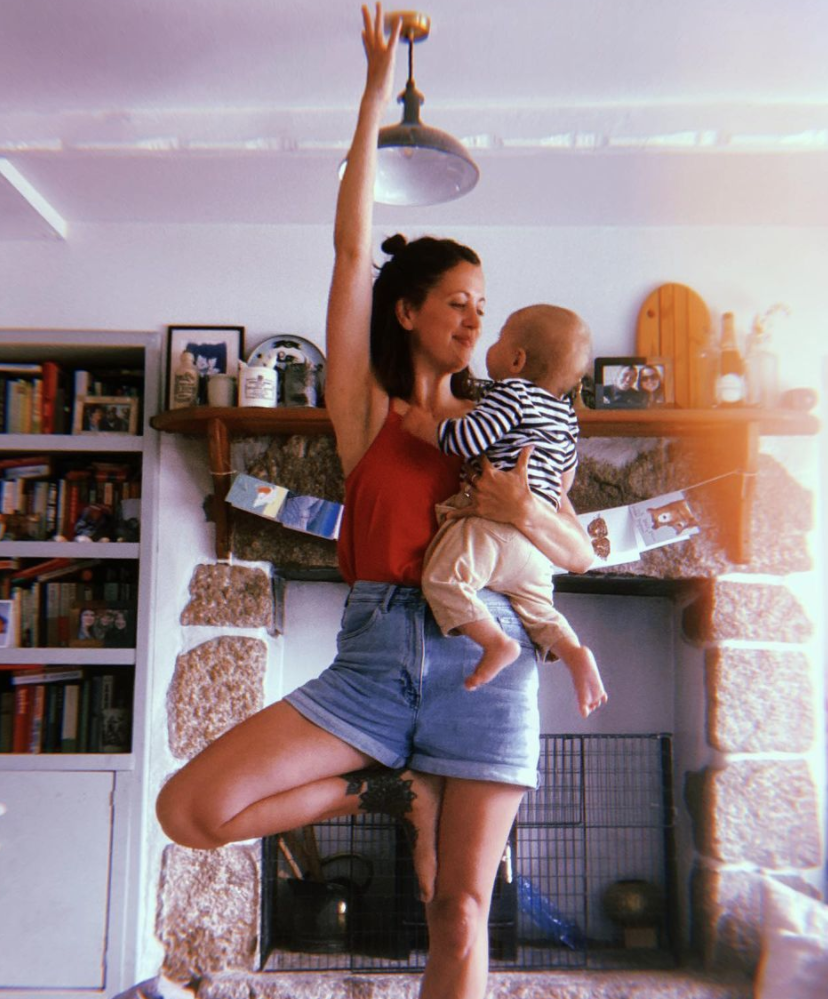 "I absolutely loved the pregnancy and postnatal course with Amy. The online content was really extensive and easy to navigate and any question I had was answered with enthusiasm and in great detail. I've been teaching vinyasa yoga for a couple of years, but after falling pregnant myself earlier this year, I found that the course with Amy really helped me to confidently adapt my own practice and now I can't wait to start teaching all those mamas to be!" Hannah Rutland
Add the 40-hour Toddler & Pre-school YTT
Train to teach pregnancy, postnatal and toddler yoga, and save over £100 on this 2 course bundle!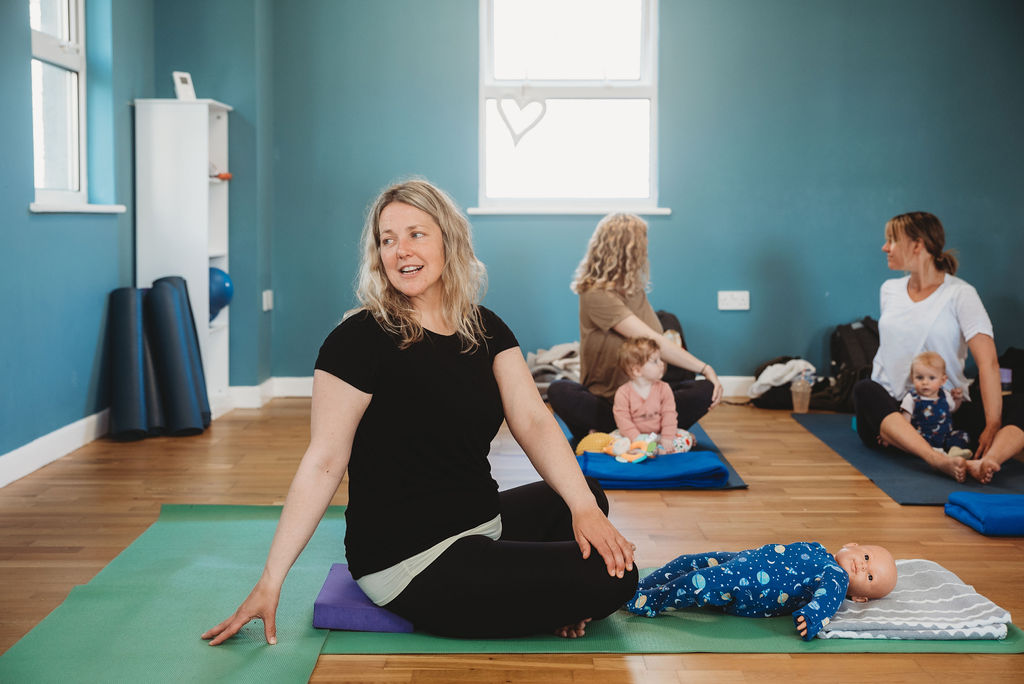 Meet Amy!
Amy is a Yoga Alliance Professionals senior teacher and trainer-pro. She is an experienced pre & postnatal yoga teacher and trainer and loves sharing her knowledge and wisdom with others.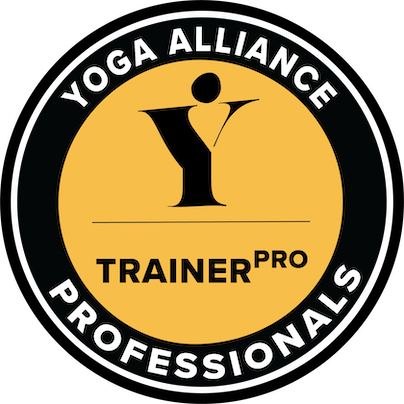 YAP specialist training accredited course
This specialist training course is accredited by Yoga Alliance Professionals UK (90 hours)